Online Donation

Thank you for your interest in donating to the projects and programs of AHM NGO. Before donating any funds, please read and agree to the following terms and conditions:


AHM NGO accepts only monetary donations. If you wish to make a donation of any intangible assets, please contact info@ahmngo.org


We do not accept anonymous donations. However, if you would like your name to be anonymous, please contact us at info@ahmngo.org. We shall not reveal any details, except when it may be required under process of law.


You can earmark your donations to a project of your choice.


AHM NGO does not charge any administrative fees for transferring funds to any project or program. However, third party fees, including, without limitation, payment gateway transaction fees, bank transfer fees, will be deducted from any donation to be transferred.


You agree that AHM NGO cannot and will not monitor the project or program beneficiary after the transfer of funds, or the completion of the project. By donating to AHM NGO, you acknowledge that you understand the risks inherent to any donation, and agree to indemnify, defend, and hold AHM NGO harmless from and against any and all claims by your related to the use of any funds donated to the Trust.


By donating to AHM NGO online, you agree that you are making a donation out of your own funds, and are not in any way, using our online portal, to effect a transaction, which is in contravention or in violation of local laws and regulations.


If you receive an electronic receipt for your donation but would like to receive a paper receipt, please contact info@ahmngo.org


Tax exemption : All donations to AHM NGO are exempt under section 80G of Income Tax Act. You will receive your Tax exemption certificate within 14 days of making an online donation


Data Security: We take utmost precautions with your data; we will never share your information. We also do not store any sensitive information like your credit card or bank details.


By clicking on the I ACCEPT button, you give your consent to the Terms and Conditions.
You will be directed to a secure Payment environment to make your Donation.
AHM NGO reserves the right to reject any donation, which is not complete in details like name, address, phone number, email id, etc

Our online payment gateways are to be used only by authorized donors; who have received a formal acceptance from us to receive their contributions. Unauthorized donations, and donations from entities, which have not entered their full contact details are liable to be rejected / refunded. Donations made by third party instruments; or from suspect IP addresses may be reported to domestic legal authorities.
Donors are advised to provide the right email address and phone number during registration. Our Payment Gateways conduct security checks by random choice of donors. So it is important to have the right contact details.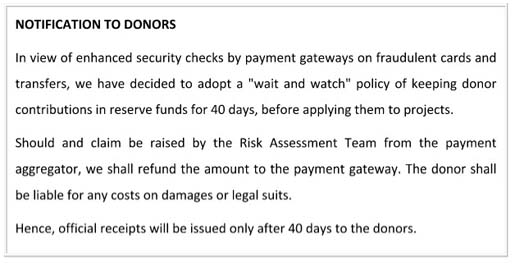 Terms of Use
Terms
By accessing this web site, you are agreeing to be bound by these web site Terms and Conditions of Use, all applicable laws and regulations, and agree that you are responsible for compliance with any applicable local laws. If you do not agree with any of these terms, you are prohibited from using or accessing this site. The materials contained in this web site are protected by applicable copyright and trade mark law.

Use License
(a) Permission is granted to temporarily download one copy of the materials (information or software) on our web site for personal, non-commercial transitory viewing only. This is the grant of a license, not a transfer of title, and under this license you may not:
i. modify or copy the materials;
ii. use the materials for any commercial purpose, or for any public display (commercial or non-commercial);
iii. attempt to decompile or reverse engineer any software contained on our web site;
iv. remove any copyright or other proprietary notations from the materials; or
v. transfer the materials to another person or "mirror" the materials on any
other server.
(b) This license shall automatically terminate if you violate any of these restrictions and may be terminated by us at any time. Upon terminating your viewing of these materials or upon the termination of this license, you must destroy any downloaded materials in your possession whether in electronic or printed format.

Disclaimer
The materials on our web site are provided "as is". AHM NGO makes no warranties, expressed or implied, and hereby disclaims and negates all other warranties, including without limitation, implied warranties or conditions of merchantability, fitness for a particular purpose, or non-infringement of intellectual property or other violation of rights. Further, AHM NGO does not warrant or make any representations concerning the accuracy, likely results, or reliability of the use of the materials on its Internet web site or otherwise relating to such materials or on any sites linked to this site.

Limitations
In no event shall AHM NGO or its suppliers be liable for any damages (including, without limitation, damages for loss of data or profit, or due to business interruption,) arising out of the use or inability to use the materials on AHM NGO Internet site, even if AHM NGO or a AHM NGO authorized representative has been notified orally or in writing of the possibility of such damage. Because some jurisdictions do not allow limitations on implied warranties, or limitations of liability for consequential or incidental damages, these limitations may not apply to you.

Revisions and Errata
The materials appearing on AHM NGO web site could include technical, typographical, or photographic errors. AHM NGO does not warrant that any of the materials on its web site are accurate, complete, or current. AHM NGO may make changes to the materials contained on its web site at any time without notice. AHM NGO does not, however, make any commitment to update the materials.


Links
AHM NGO has not reviewed all of the sites linked to its Internet web site and is not responsible for the contents of any such linked site. The inclusion of any link does not imply endorsement by AHM NGO site. Use of any such linked web site is at the user's own risk.

Site Terms of Use Modifications
AHM NGO may revise these terms of use for its web site at any time without notice. By using this web site you are agreeing to be bound by the then current version of these Terms and Conditions of Use.

Liability
We as a merchant shall be under no liability whatsoever in respect of any loss or damage arising directly or indirectly out of the decline of authorization for any Transaction, on Account of the Cardholder having exceeded the preset limit mutually agreed by us with our acquiring bank from time to time.

Governing Law
Any claim relating to AHM NGO web site shall be governed by the laws of the Republic of India, and also the State of TamilNadu without regard to its conflict of law provisions.
We are committed to conducting our business in accordance with these principles in order to ensure that the confidentiality of personal information is protected and maintained.

Contacting Us
If there are any questions regarding this policy you may contact us.
PRIVACY POLICY
What information do we collect?
We collect information from you when you fill out a form.
When ordering or registering on our site, as appropriate, you may be asked to enter your: name, e-mail address, mailing address or phone number. You may, however, visit our site anonymously.
What do we use your information for?
Any of the information we collect from you may be used in one of the following ways:
To process transactions.
Your information, whether public or private, will not be sold, exchanged, transferred, or given to any other company for any reason whatsoever, without your consent, other than for the express purpose of delivering the purchased product or service requested.

How do we protect your information?
We offer the use of a secure server. All supplied sensitive/credit information is transmitted via Secure Socket Layer (SSL) technology and then encrypted into our Payment gateway providers database only to be accessible by those authorized with special access rights to such systems, and are required to keep the information confidential.
After a transaction, your private information (credit cards, identity details, financials, etc.) will not be stored on our servers.
Do we use cookies?
Yes (Cookies are small files that a site or its service provider transfers to your computers hard drive through your Web browser (if you allow) that enables the sites or service providers systems to recognize your browser and capture and remember certain information
We use cookies to help us remember and process the items in your shopping cart.

Do we disclose any information to outside parties?
We do not sell, trade, or otherwise transfer to outside parties your personally identifiable information. This does not include trusted third parties who assist us in operating our website, conducting our business, or servicing you, so long as those parties agree to keep this information confidential. We may also release your information when we believe release is appropriate to comply with the law, enforce our site policies, or protect ours or others rights, property, or safety. However, non-personally identifiable visitor information may be provided to other parties for marketing, advertising, or other uses.
Third party links
Occasionally, at our discretion, we may include or offer third party products or services on our website. These third party sites have separate and independent privacy policies. We therefore have no responsibility or liability for the content and activities of these linked sites. Nonetheless, we seek to protect the integrity of our site and welcome any feedback about these sites.
Online Privacy Policy Only
This online privacy policy applies only to information collected through our website and not to information collected offline.
Your Consent
By using our site, you consent to our privacy policy.
Contacting Us
If there are any questions regarding this privacy policy you may contact us.
REFUND POLICY
Donations
We cherish every donation and work hard to ensure every donation is put to work helping others quickly.
When we receive your donation, we believe it was your full intention to support our efforts to meet humanitarian needs of the beneficiary families.
Because AHM NGO put all donations to work quickly, we do not offer refunds on donations.
We do not give refunds if you simply change your mind or make a wrong decision.
Contacting Us
If there are any questions regarding this refund policy you may contact us.
Financial Donation
As the financial aid we currently received from foundations ended in the year 2009, and considering the scope of our visions, AHM NGO happily accepts donations. We believe even the smallest donation can go a long way in eradicating child labour and promoting economic self-sufficiency among the rural poor of Tamil Nadu.


We accept donations ranging for Rs.335 / $5 onwards or whatever you can afford.


Indian donors should contribute directly to Action of Human Movement (AHM ) to the address given below in order to receive an 80-G tax deduction.


To exemplify in how far you could support us with a donation of your choice, we would like to present you with the following: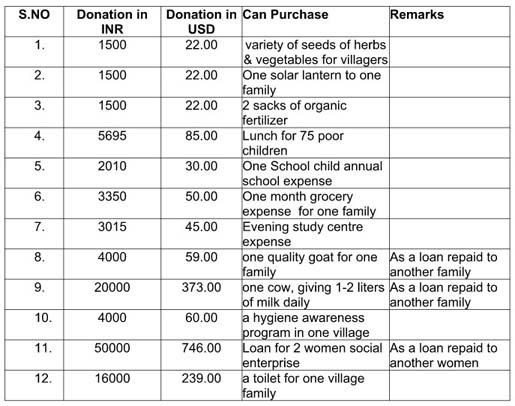 Indian Account Detail (For Indian Donors)

Account Name
: Action of Human Movement (AHM)
Account Number
: 822410100003551
IFSC Code
: BKID0008224
MICR Code
: 600013504
Bank
: Bank of India
Branch
: Kammalam Poondi Branch
Address
: 67, Car Street, Kammalam Poondi - 603406
Mode of electronic transfer
: RTGS, NEFT
Bank Phone Number
: 04427272217

Foreign Account Detail (For Foreign Donors)

Account Name
: Action of Human Movement (AHM)
Account Number
: 822410210000024
Bank
: Bank of India
Branch
: Kammalam Poondi Branch
Swift Code
: BKIDINBBMOS
Bank Phone Number
: 04427272217

Send your DD or Cheque in favour of 'Action of Human Movement (AHM)'

Address:
The Secretary, Action of Human Movement (AHM),
3/13, Madha Koil street, Kammalam Poondi Po,
Uthiramerur Tk, Kancheepuram – 603 406
Tamil Nadu, South India
News & Events
Function Photos
Newspaper Cuttings